下 篇 平衡方法
Part III Methods of Balance


第十章 知行美
Chapter X Knowledge, Act and Beauty

一、知:认知、明白、知道、晓得等等。大平衡体会:
I. Knowledge: perceive, be aware, know and understand. The Great Balance Theory holds:
(1)"真知"不易:能学到"真知"本身就是一种美。
1. "Genuine knowledge" is never easy to attain: It is a kind of beauty if one can really acquire the "genuine knowledge".
(2)"知"的途径:学而知之、听而知之、视而知之、行而知之和偶而得之。各种"知"的过程,都存有美的感受。
2. How to get "knowledge": through learning, listening, seeing and acting and acquiring by incidence.Beauty can be felt during all the processes of acquiring "knowledge".
(3)"知"的环节:a、知其然; b、知其所以然;c、知其所以然之然(循环); d、身处其境会如何?e、他人是否另有高见?f、其中不足如何补。g、满招损谦受益。
3. Steps of "knowledge": a. knowing that something is so; b. knowing why it is so; c. knowing reasons for why it is so; d. knowing how to act if one is in a similar condition; e. knowing if others have better opinions or suggestions; f. knowing how to make supplement in case insufficiency occurs; and g. knowing that pride goes before a fall and must be abandoned.
(4)少则得、多则惑。善于学习、勤于实践,不读死书。
4. Less brings about gain, more gives birth to puzzle. One should industriously practice what has been learned from books, and not be a bookworm.
(5)知在变。世上没有绝对的"知",只有相对的"知";
5. The knowledge keeps changing. No "knowledge" on earth is absolute, all "knowledge" is relative.
二、行:做、动、办理、落实等。
II. Act: do, move, deal with and implement.
(1)确认目标。坚持"准平衡",坚持正义、坚定不移、坚忍不拔。
1. Affirm the goal. Stick to "quasi-balance", uphold justice, and be constant, firm and indomitable.
(2)"行"有"无形之行"——心里活动,有"有形之行"——身心活动。从"无形之行"——"起心动念"处,把握好"准平衡"是成功的基础。
2. "Act": "intangible act"—psychological activities and "tangible act"—physical activities. It is the base of success to keep "quasi-balance" starting with "intangible act"—"mental thinking".
(3)过程之美:a、强制行; b、坚持行; c;主动行; d、自觉行; e、无以求报行;f、习惯行; g、油然而行。
3. Beauty of process: a. acting by force; b. persisting in act; c. acting actively; d. acting conscientiously; e. acting for no repayment; f. acting from habit; and g. acting spontaneously.
世上没有绝对的事情。所以,"知与行"的"先后、难易、轻重"也都是相对的。大平衡哲学认为:知行合一、如环无端。要论"先后、难易、轻重",应先看属于什么情况。时至今日讨论"知与行"的"先后、难易、轻重"已经不重要,重要的是:
There is nothing absolute in the world. The "order, difficulty and importance" of "knowledge and act" are relative. According to the Great Balance Theory, knowledge and act are integrated like a ring, and the specific situations will matter regarding the "order, difficulty and importance". Today, it is not important to discuss the "order, difficulty and importance" of "knowledge and act", but we should be clear:
1、讨论的"目的"是什么?2、讨论它们有什么价值?3、人们是否需要这样的讨论?认真理顺这几个问题之后,"知与行""先后、难易、轻重"的争论才会有意义。
1) What is the "aim" of the discussion? 2) What is the value of the discussion? 3) Whether people need such discussions? Only after the answers to these questions have been made clear, can the discussion about the "order, difficulty and importance" of "knowledge and act" mean something.
其实,大道理人们不是不知,但为何"知而难行"?这里固然有人难以胜己的缘故,但还由于:(1)有人"行"有人不"行";(2)"行"者往往吃亏、"不行"者却往往多得好处;虽然最后还是"行"者胜,但总因周期过长人多难以坚持;(3)"不行"者往往具有优势。他们认为,纵然"不行"又能怎样?
Though general principles are known to all, few do practice them. Why? Besides "easy said than done", 1) some "act", but others "don't"; 2) the "actors" often suffer losses while the "non-actors" get benefits, though in the end the "actors" will win, the long time makes many fail to hold on to the last; and 3) the "non-actors" hold the advantages and think others can't do anything about them even if they "don't act".
如何应对?望赐教。大平衡只知道:(1)老百姓最愿意遵守规则、也最希望人人都守规则。(2)法律是维护大家利益的,所以破坏法律可以得到"好处"。(3)一般人难耐诱惑、寂寞。
So how to deal with this? The Great Balance Theory holds that: 1) the common people usually abide by the rules and hope others all do so; 2) the law is to protect the interests of the public, so disobeying the law will bright about benefits; and 3) generally speaking, ordinary people are hard to resist the temptations and bear the loneliness.
三、美:漂亮、好看、得体、满意、舒服、恰如其分、自然而然。可以"知"是美、能够"行"是美、知行合一更是美上加美。与时俱进、和而不同是"美"、"克己服理是美",定性与定量有机融合更是"美"。利于生存的"适"为美的最高境界。
III. Beauty: pretty, good-looking, decent, satisfying, comfortable, appropriate and natural. It is beauty to have "knowledge" and to conduct an "act", and combination of "knowledge" and "act" brings about more beauty. It is "beauty" to keep pace with the times, to seek harmony while reserving differences, to be self-restraint and obedient to reason, and to combine the nature and quantity. "Applicability" that facilitates subsistence is the highest realm of beauty.
总之,大美生于大缺,成于适中,逝于失度。一理通则百理顺。人类所有学科俱系于一纲,都是一种艺术、一种美学。大平衡也是一种淳朴的美学。知美、行美、知行合一、自然而然"适中"最美。
All in all, great beauty originates from great imperfectness, develops with moderation, and disappears in case of excessiveness. If one reason is understood, then all will be understood. All subjects are in fact belonging to one general subject of art and aesthetics. The Great Balance Theory is a kind of simple aesthetics. Knowledge is beauty, act is beauty, and the combination of knowledge and act is also beauty, and being natural and "means" is the best beauty.
适者生存,我适,故我在。自由、自在......。
The fittest survive. Those who fit the situation will survive, with freedom and ease.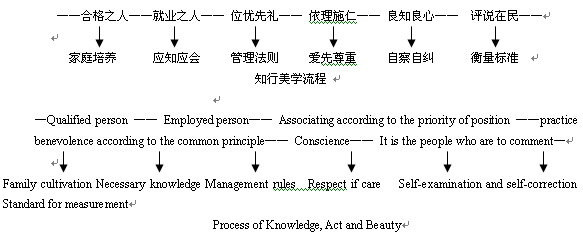 大平衡,老百姓的美学。
Great Balance Theory, the aesthetics of the common people.
下篇小结:下篇从价值观、伦理观谈起,为实现平衡描出"纵横坐标"。然后从"因果、本末、体用"的层面提出平衡方法:做事先做人。最后讨论"知行合一"是美,"知而难行"是人性所在实为缺憾,但这恰恰也是一种美……。
Conclusion of Part III: This part starts with the value and ethics, and draws a "coordinate" for the realization of balance, then puts forth, based on the "cause-result, root-end, and body-function" relations, the method of balance: self-cultivation before work, and lastly discusses that it is beauty to combine "knowledge and act", and it is also a kind of beauty that "easy said than done" though it is a flaw of human nature.
需求原则——需求有限欲望无穷,适度把握平安幸福。(0.618黄金分割)